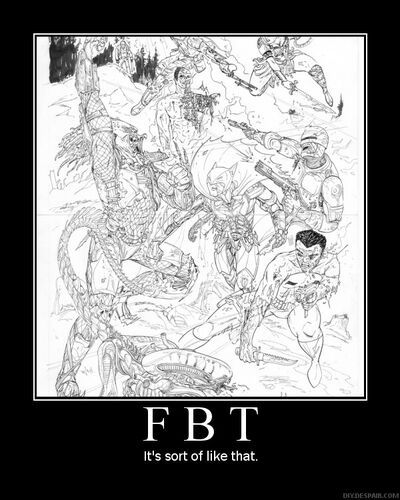 New pages
Welcome to the Fire Breathing Tribbles Wiki

Edit
The Fire Breathing Tribbles wiki provides information for using the FBT system in your own role-playing games.  The brainchild of Bill Coberly, FBT is an RPG system that blends the content from various universes such that it is entirely possible to have an armored moogle with a zanbatou fighting a Jedi.  It is also perfectly acceptable just to use it for smaller, more constricted settings, as a purely fantasy or science fiction game.  Ideally, it will be easy to pick and choose which sections you want to use in any given campaign, making it a modular, user-edited RPG.  Which ought to be kind of neat.
This wiki contains the core rules and abilities for FBT.  There are plans for user-generated content to be able to be submitted in a manner that allows organization by user ratings and suchlike things. Huzzah. Mind the construction zone.
Interested in the construction process? Check out http://firebreathingtribbles.blogspot.com to see us crazily attempt to make a game out of this stuff.
Questions/comments/concerns, etc? Contact firebreathingtribbles@gmail.com and we'll answer.
So you think you want to play?
Edit
3/11/10 - Back to work, kiddos. Intend to get the Wiki up and running for public consumption before school gets out.
12/01/09 - All ability trees updated (save for Illusion), Weapon and Armor tables uploaded.  Races page uploaded.
11/18/09 - All ability trees can link you back to the Abilities page and Here
11/5/09 - Many ability trees uploaded.
10/23/09 - Construction begins.
Write pages concerning:
Community content is available under
CC-BY-SA
unless otherwise noted.